The 2018 Subaru Crosstrek Is the Perfect Adventuring Partner in Vermont and Eastern New Hampshire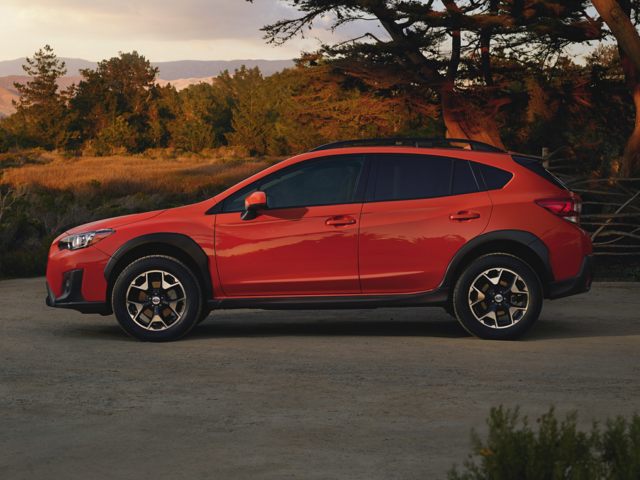 Many of our drivers are adventurers, looking for excitement on the road less traveled. They enjoy exploring the wilderness, and seeing the beauty of our landscape here in Norwich, VT and across the border in nearby Lebanon, NH. 
It is important to have a vehicle that complements these endeavors, and provides you with the tools necessary to be successful when traversing a variety of terrains. This kind of versatility, reliability, and safety is standard with the 2018 Subaru Crosstrek.
The Crosstrek's Rugged Exterior Design, Refined Interior Features
The first thing you will notice, when you lay your eyes on the 2018 Subaru Crosstrek, is its rugged exterior design. Combining a sleek, aerodynamic frame with chiseled features (like its headlights, and its front grille), and sharp accents, this Subaru vehicle is a bold statement on the road.
Browse all of the new Subaru Crosstrek inventory at our Norwich, VT dealership here!
Furthermore, the 2018 Subaru Crosstrek is clearly designed to get a little dirty on the road less traveled. With its roof rails and its high ground clearance, this vehicle clearly wasn't made just for the highway. The interior is just as impressive. Refined details, comfortable seating, and easily accessible interior features are just a few of the benefits you can expect from this vehicle. Furthermore, this vehicle has plenty of space for cargo and passengers, meaning your travels will be more comfortable when you are driving this vehicle.
Subaru Crosstrek: Reliable Performance Meets Advanced Technology
The 2018 Subaru Crosstrek has a lot of benefits; however, it is extremely well known for its performance capabilities on the road. With this vehicle you will be able to take advantage of up to 33 highway mpg, standard symmetrical all-wheel drive, and the versatile abilities of the Subaru Boxer engine. This means that, with the 2018 Subaru Crosstrek, you will be able to go further on one tank of gas, and be able to traverse a variety of terrains.
Furthermore, the 2018 Subaru Crosstrek has a number of different features that help ensure your comfort, and your safety, on the road. In terms of entertainment features, you will be able to take advantage of the Subaru Crosstrek's cutting-edge multimedia system, along with its premium audio system.
Safety is where Subaru vehicles truly shine, though. With features like blind-spot detection and rear-cross traffic alert, LED steering responsive headlights and high beam assist, and driver assist technology you will always be secure behind the wheel, and prepared for the tribulations of the road.
You may be wondering how much all of this costs, and the answer may surprise you. For all of these benefits -- the rugged design, the comfortable interior, the high fuel efficiency, the versatile power, the cutting-edge entertainment features, and the renowned safety capabilities -- the starting MSRP for the 2018 Subaru Crosstrek is $21,795.
While that is an incredible price, regardless of the features that come with it, it is truly incredible how much you get for the price you pay. That is one of the reasons why the 2018 Subaru Crosstrek is sought after by adventurers.
Where can I learn more about the new 2018 Subaru Crosstrek near me in Norwich? At Prime Subaru Vermont!
If you would like to learn more about our selection of vehicles, including the 2018 Subaru Crosstrek, or if you have any specific questions pertaining to the information above, we invite you to visit us at Prime Subaru Vermont, located in Norwich, VT. If you are in need of a new vehicle, and you are looking for something highly capable, and modern, then we implore you to check out our extensive inventory.
Visit us today, and we can help you set up a test drive with your favorite automotive option.
We proudly serve all drivers throughout Norwich, VT, and White River Junction, VT and across the border in New Hampshire.