A Mid-Sized Sedan With Plenty of Heart: 2018 Subaru Legacy
There are a lot of different vehicles, and body styles, from which to choose. No matter what your preferences, or your needs on the road, are our selection of Subaru vehicles are sure to complement your lifestyle and personality.
Sedans are special, though, in that they combine a variety of different benefits into one stylish package. Not only are they surprisingly spacious, offering you plenty of passenger space and cargo room, they also provide you with the efficiency you need, the power you want, and a surprising array of cutting-edge features. All of these benefits are on display in the 2018 Subaru Legacy. With this vehicle, you can handle the road with confidence, poise, and speed. 
Browse all the new Subaru Legacy cars in inventory at the Norwich, VT dealership!
Gorgeous Exterior and Interior Design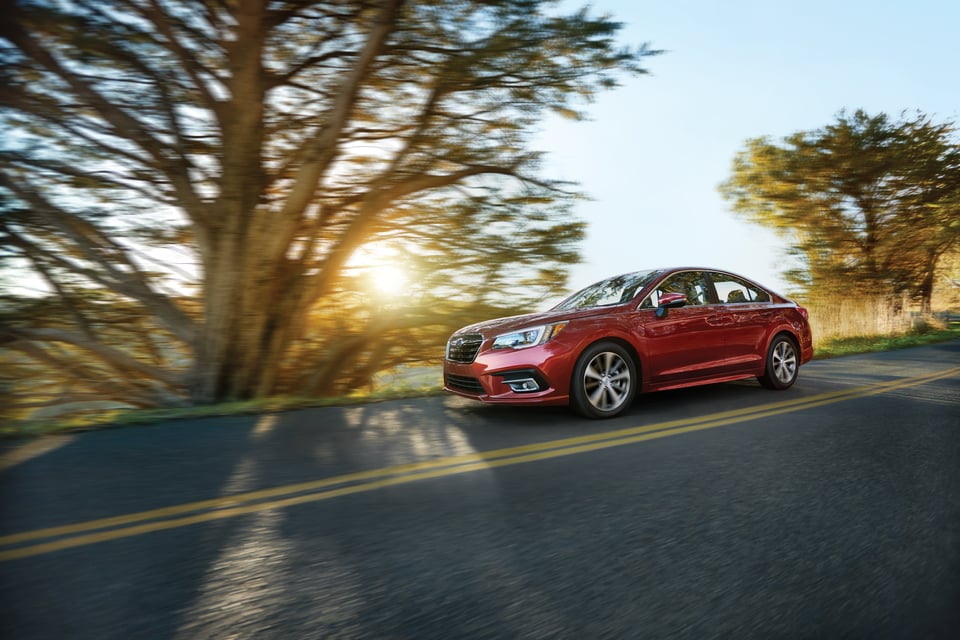 The moment you see the 2018 Subaru Legacy, you will fall in love with it. Sleek curves, sharp accents, and a confident front end all help add to this vehicle's assured aesthetic. Furthermore, its body design helps enhance your efficiency on the roads of Vermont or anywhere else it takes you.
The inside of this vehicle is just as incredible. With its comfortable seating design, its easily accessible features and controls, and its expansive interior spaciousness, this vehicle is an incredible example of practical, and comfortable, vehicle design. All of these benefits help enhance your experience behind the wheel, so that you can truly enjoy the open road in the way it should be experienced.
Reliable Performance; Renowned Safety
The 2018 Subaru Legacy truly shines when it comes to its performance, though. It has a plethora of abilities and benefits that are sure to change the way you view the open road.
Offering you an incredible 34 highway mpg, 256 horsepower, standard symmetrical all-wheel drive, and advanced suspension, this sedan drives like a dream. Its handling is precise, and sharp. In other words, this is a vehicle that is capable of providing you with a reliable experience on the road in every sense of the term.
Furthermore, the 2018 Subaru Legacy has a variety of advanced features that help ensure your safety, and your comfort on the road. With features like blind spot detection, a rear-vision camera, and driver assist technology you can confidently traverse thoroughfares without issue. This does not include the extensive history Subaru vehicles have for keeping drivers safe behind the wheel.
Not to mention, with entertainment features like:
premium sound system
memory seating
an advanced multimedia system 
On top of all of this, the 2018 Subaru Legacy is highly affordable, with a starting MSRP under $23,000.
What all of this means is that, for a very affordable price, you can get a vehicle with incredible efficiency, impressive horsepower, advanced technology, and incredible performance abilities. That is an incredible opportunity in every sense of the term. 
Find a Subaru Legacy lease or other special offer at Prime Subaru VT here!
Want to Learn More About the 2018 Subaru Legacy?
Finding the right vehicle is important - you want to be sure that the vehicle you are buying is complementary to your personal lifestyle, and to your individual driving needs. Whether you are a young professional looking for a versatile, and modern vehicle, or if you are in need of a sedan that is great for families, then you may be interested in checking out the 2018 Subaru Legacy.
If you would like to learn more about our selection of Subaru vehicles, including the 2018 Subaru Legacy, we invite you to visit us at Prime Subaru Vermont, located in Norwich, VT and serving nearby Lebanon NH, Hanover NH, White River Junction, Woodstock VT. Our team is here to help you find a Subaru vehicle that is just right for you in every sense of the term.
Your privacy is important to us.
Prime Subaru Vermont takes your privacy seriously and does not rent or sell your personal information to third parties without your consent. Read our privacy policy.